Apple Iphone 6s 128gb
IPHONE X (64GB) 2 YEAR WARRANTY
Sales Person / Pre-sale Questions
Need Help? Contact Us via WhatsApp
Description
Apple Iphone 6s 128gb
Sound and Music:
Music player
Popular ring tones
Mobile Features:
Live photos
Bluetooth
WiFi ready
iOS 9 OS
12MP camera
Video capable
Full web browsers
Technical Profile:
Talk time: Up to 14 h
Battery: rechargeable
Display:
4.7″ Retina HD screen
Resolution: 750 x 1334
Messaging:
SMS and MMS
Email
iMessage
Included:
A MILLION REASONS TO CHOOSE IOS
The iOS App Store contains over one million high quality applications. An abundance of options for productivity, creativity, and gaming means you can play more, do more, and achieve more, every day.
BIG, SEAMLESS, BEAUTIFUL
Everything about the iPhone 6s was engineered with precision and perfection in mind. It has a generous, 4.7″ display, smooth edges, and a fast, intuitive interface. iPhone 6s is so well crafted that it's difficult to tell where the iPhone ends and life begins.
ADVANCED RETINA HD DISPLAY
The iPhone 6s takes Apple's coveted Retina display to the next level. This improved display provides wider viewing angles, higher resolutions for incredible sharpness, and extremely accurate colors.
WHAT'S INCLUDED
30-point quality inspection
Charger included
No contracts or strings attached
CARRIER COMPATIBILITY
Our unlocked devices are generally GSM & CDMA compatible and will work on all major US carriers (Verizon, AT&T, Sprint, T-Mobile) and most MVNOs. Unlocked devices may not work in non-LTE coverage areas. Learn more
HOW TO ACTIVATE
Most carriers offer activation through their website, howe
Apple Iphone 6s 128gb 1 year WARRANTY
Operating System:iOS 8
Processor:A9 Chip, M9 Motion Coprocessor
Memory:2GB RAM DDR3
Storage:128GB
Camera Resolution:12.0 MP
Battery:Non-removable 1810 mAh
Display Size:4.7″
Display Resolution:750 x 1334 pixels
Connectivity:3G, 4G LTE, WiFi, Bluetooth v4.0, NFC
Height:5.44″
Width:2.64″
Depth:0.27″
Weight:5.04 oz.
They say an iPhone is supposed to be expensive, and Apple fans will never question that. There's no denying that the iPhone 6S is a good phone, but there's also no denying that it's an incremental update over the iPhone 6. It's really powerful and the performance is to die for, but if this was an Android phone, we would all have been criticising it.
BUY APPLE IPHONE 6S 128GB
APPLE IPHONE 6S 128GB DETAILED REVIEW
An argument could be made about the iPhone S having more riding on its shoulders than other 'S' devices from Apple. The reason for this is that Android devices, especially those from Samsung, have been catching up.
I recently wrote about how Android is closer to iOS than it ever was, and the fact is that there are just too many OEMs out there with smartphones running on Google's OS. So, Apple has to hold on to its global market share, which currently, is being threatened by these OEMs. It's brute force that needs to be reckoned with, and while last year's 4.7 inch display was an acknowledgement, this year's 12MP camera is acceptance.
So, does the iPhone 6S do what it's meant to do? Is everything as 'rosy' for Apple as it needs to be? Let's find out
Build and Design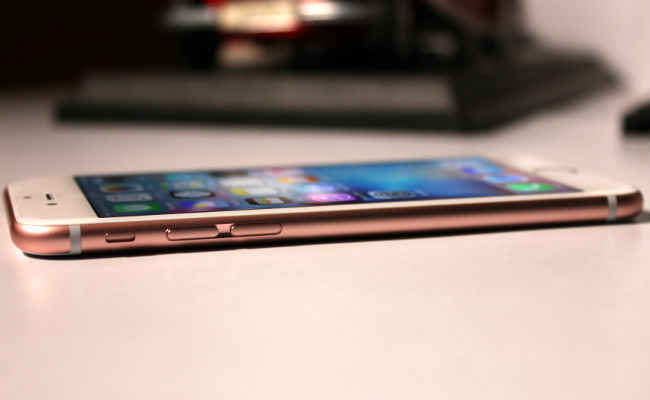 What you see is what you get here, unless you're an iPhone 6 user. The iPhone 6S looks exactly like its predecessor. I gave the phone to three iPhone 6 users and they swore they could feel the difference in both thickness and weight. In fact, the fact that it's heavier is more apparent, but what you feel more is the new alloy that Apple has used to avoid bendgate issues. The iPhone 6S feels sturdier than the iPhone 6, and less prone to damage. Also, the phone doesn't feel as slippery as the iPhone 6 did, meaning you can do without a cover for this one.
Apple Iphone 6s 128gb